New ward... FIVE nurseries... OH MY GOODNESS!!!!
Talk about a different ward-I feel like we are in Utah County.. We loved our last ward and if I could have lasted longer in a second floor apartment without a washer and dryer.. there is no question we would have stayed there forever! But going to new wards is
fun.. this is our 4th ward that we have been in since we've been married. I guess you could say we were getting the itch to move... we've never been in one place for too long. It's fun to meet new people and get to know them. For example... we have a girl in our ward who is on the Olympic team for the shot puts... yeah pretty awesome and her husband is on the medical team... how cool would that be??? SOO jealous.
In other news... Roxy learned to go through the doggy door today at the professor's house... I have mixed feelings about this one because I know it won't be used for anything productive (like going potty outside). Hopefully she doesn't go exploring and get eaten by a coyote or drown in the swimming pool.
This weekend we ate here.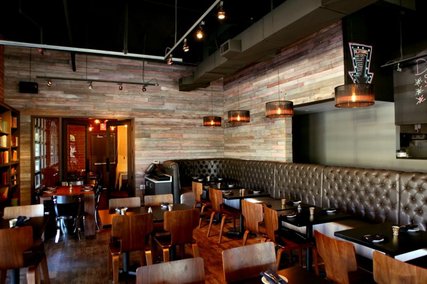 THE ABBEY. Isn't it cute?
At night they open the garage doors to let the nice cool breeze in! I think that we will be returning because it was super delicious and had a great atmosphere!
HAPPY HOUR
My firm has a happy hour every once in a while and can I just tell you how much I love them? It's such a great way for everyone to get together after work and just enjoy meeting people and company! I am slowly seeing why people find it soooo strange that we don't drink. Getting a drink after work is just what people do. It's always a nice ice breaker when I ask for a virgin Lavaflow (my specialty drink). anyhow... we have our happy hours at this super cool place called the Playground, just right down the street from our office. (see below for super cool pics)
This place is super awesome and has swings hanging from the ceiling, fire pits and a roof top deck that has the best views they also play black and white films on the building next to them. I love it and I want the designers to design my outside space! We enjoy getting to know clients outside of the office and have a ton of fun every time! I really love my new job and all the perks that come with it!